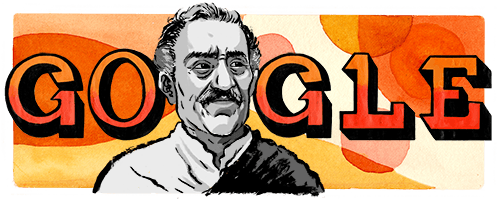 Today is Amrish Puri's birthday. He would have 87 if alive. Google is celebrating his birthday by honoring him with a
doodle
. What comes to your mind when you hear his name? Perhaps a snickering laughter and him uttering "Mogambo... khush Hua!!" with a pause. Well, this is only one side of this versatile actor whose film carrier spans across 35 years. He has begun his film career with Dev Anand's 1970 "Prem Pujari" in a petty role of a Henchman. It was just a beginning before his becoming the Great Mogambo of Anil Kapoor and Shridevi's Mr. India (1987)
A huge list of 400 films in different languages, including Hindi, Kannada, Telugu, Malyalam and Punjabi, Amrish Puri have been an institution and an actor exemplar. From the Baba Bhaironath of Shridevi's Nagina (1986) to Dilwale Dulhania Le Jayenge's Babu Ji 'Ja Simran Ja. Ji le apni Zindagi' fame, Amrish Puri has been versatile throughout his film journey. He has done inspiring roles of vehement villains and supporting actors with a comic touch. He has done the roles of most cruel some of villains in the history of Indian Cinema. He has been nominated 16 times for the Filmfare's Best Villain Award.
Besides this very image of the Badman of Bollywood, Amrish Puri has made some very promising roles in the cinema which is popular as parallel cinema. So, here is a list of some of those films which are known for Amrish Puri's contributions to the parallel Hindi cinema.
1.
Nishant (1975)
Director Shyam Benegal's Nishant portrays Amrish Puri as an influential Zamindar as the symbol of feudalism in Indian suburbs. The movie discusses the agony of an oppressed and sexually exploited woman.
Another Shyam Benegal film in which Amrish plays the role of a dishonest dairy owner Mishra Ji who exploits poor milk farmers. The film is inspired by the real life scenario of exploitation of cattle rearing farmers of Gujrat.
3.
Bhumika (1977)
Shyam Benegal's Bhumika is the story of a girl Usha who comes to Bombay to audition as a singer and then finds her way to become an actress followed by the delusional stardom giving her an unhappy life. During this she meets different characters, including Vinayak Kale played by Amrish Puri.
4.
Aakrosh (1980)
Another gem in the bag, Akrosh directed by Govind Nihlani and written by Vijay Tendulkar tells the age old story of the oppressed and the oppressor. The movie won the National Award for Best Feature Film in Hindi. Amrish Puri in the lead along with Naseeruddin Shah and Om Puri plays the role of public prosecutor Dusane.
5.
Ardh Satya (1983)
Govind Nihlani's Ardh Satya revolves around the story of an honest policeman Anant Welankar (Om Puri) and Jyotsna Gokhale (Smita Patil). Amrish Puri played Anant's father who is a retired constable who is violent and tough to deal with.
6.
Party (1984)
Party is quite an interesting piece of parallel cinema. Govind Nihlani directed film presents a bouquet of the leading actors of parallel cinema of the time. The interesting thing about this movie is that it is shot mostly in real time. The timeline of the movie spans across an evening featuring a house party showing people discussing social and political life in a satirical way. Amrish Puri has played the role a Doctor who is quite philosophical in his expressions.